CCTV Drain & Sewer Surveys London
Based on the borders of Londona and Essex, we're ideally located to provide our high-quality CCTV drain surveys throughout London and surrounding areas. Speak to us today to find out more about the services that we have to offer.
What is a CCTV Drain Survey?
Over time, drains and pipework can become damaged. This can result in multiple issues, such as recurring blockages, bad smells within a property or rodent activity. You may also request a survey to map out the location of any drains around your site, or you're hoping to obtain a build-over agreement from a water board.
At First Action Drainage Services, we provide efficient CCTV drain surveys to identify any faults, carrying camera equipment to cater for all pipe sizes and drainage systems. If your property has defective or leaking drains, a survey will allow us to quickly locate the source of the problem and enable our team to act quickly with a solution.
With the footage and data available to us, we can accurately calculate the cost and time it will take to rectify the problem in your drains.
Why Choose Us?
We provide fast, accurate drain diagnosis
Book both domestic and commercial CCTV drain surveys
We turnaround most drain surveys within 24 hours
Our expertise includes CAD mapping and home buyers reports
Our drain engineers are based across London and Essex
All our quotes are highly competitive
Problems with your drains?
Find the cause with a CCTV survey
The footage recorded in our CCTV drain survey is recorded and uploaded to cloud storage. Once we have the footage, we can evaluate the images and video footage to identify the problem. This includes holes in the pipes, cracks, rodent nests, fat deposits, scale build-up and open joints. A report is then put together with the results showing the drainage layout and the affected area.
Our engineers are always happy to talk you through the process of a CCTV drain survey and the report that follows. We offer honest advice and services to help remedy any issues found, including drain descaling, drain jetting, drain relining and more. We may also need to perform drain clearance or descaling work during the survey if any issues are preventing us from obtaining high-quality images for your report.
Advanced CAD Mapping for Drains
We use CAD MAP technology if you've requested advanced drain mapping services at your site, ensuring drains are in good working condition before any construction project begins. Our specialist cameras are fitted with SONDE devices to accurately map out all the pipework present. If you have any hidden manholes that need locating, we can also use CAT scanners to identify their position fast.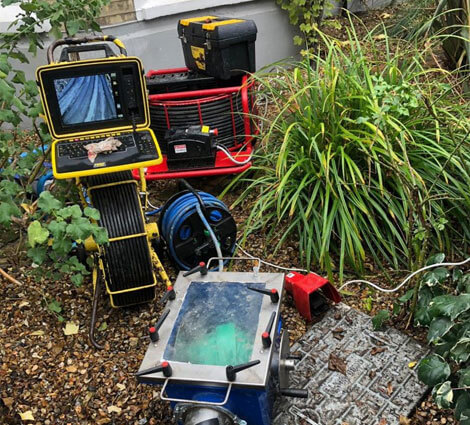 See what our customers think
"Punctual, professional, helpful, very happy to recommend. I was incredibly impressed with the service provided."
"I found Darren's number by Googling 'CCTV surveys' and his number came up first. When i telephoned his office, I was dealt with in a polite manner and an appointment was made for the next day. Darren turned up on time and I knew from the very moment that I met him that I could trust him. Darren took the time to explain the process and at no time did I feel that he would charge me more than the quote. If I have to survey more drains then I would use his service."
"Great service, very polite and very knowledgeable about drain systems. Would recommend him above all the big companies. He turn up on time and went thought what he was going to do before he undertook the works. Will be keeping his number for future works."
Book a Drain Survey Now
To book a fast, accurate CCTV drain report at your home or business, call now on 07889 524108.